Books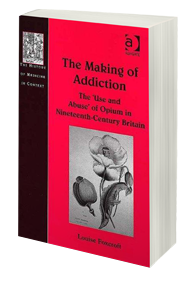 The Making of Addiction: The "use and abuse" of opium in nineteenth-century Britain

(Ashgate, 2007)

What does addiction mean to us now, what has it meant in the past, and how are these connected? The concept of addiction has a long socio-cultural history but the field of knowledge that has developed around it is very recent. Is this behaviour natural or pathological? Or even morally reprehensible? This book looks at perceptions of chronic opiate use in the nineteenth century and at the development of addiction as a disease entity.

By the end of the century, the 'habitué' was damningly diagnosed as suffering from a mental illness, and the treatment meted out to such persons was bound up in disease rhetoric and prevailing theories of degeneracy and deviancy. Distrust and confusion, prejudice and fear, grew with the concept addiction.

Looking at early medical explanations and at personal accounts of 'enthralment' can give us valuable insight into the ways in which present-day theories and policies expose social norms, values and beliefs. A greater understanding of this history could humanise the seemingly marginal figures who have used drugs in a non-medical way and dispel much of the demonisation which has attached itself to this behaviour.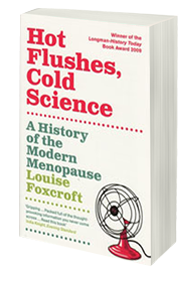 Hot Flushes, Cold Science: A history of the modern menopause

(Granta, 2009)

Winner of the Longman/History Today Book of the Year Award 2010

Over two hundred years ago Dr John Fothergill wrote, 'There is a period in the life of females to which, for the most part, they are taught to look with some degree of anxiety'. Nothing has changed. In 1936 Marie Stopes argued that 'the "crises" of a woman's life have been much descanted upon by men medical writers and perhaps the most artificially created has been her "change".'

Today the menopause is wrapped around with treacherous, anachronistic clichés. It is regularly used as a lazy insult by the unimaginative and unthinking, especially by those entertaining misogynistic notions that reduce women to their reproductive function. Menopause has become an age under siege and to understand why this is, we must put it in historical context. Powerful medico-cultural trends have dictated women's experience of menopause and they, in turn, have surrendered to, resisted, been complicit in or influenced these trends.

If menopause is an oestrogen failure then there is an argument for calling childhood a size failure. If women over fifty are called post-menopausal, why aren't little girls referred to as pre-menarchical? It may seem right that menopause, being of the body, comes within the realm of medical interest but it is a natural phenomenon, not the disease it came to be described as. In itself, menopause doesn't deviate from health, so palliative treatments and management, which have a long history, are one thing, whilst interventionist, artificial attempts to circumvent, waylay, or postpone menopause are another.

We must challenge prejudices instead of continuing a two hundred and fifty-year-old and, at the very least, vain, attempt to pin down menopause as a disease and the concomitant, spurious idea of a 'cure'. The narrative of attitudes and therapies over time is interdependent, sometimes enlightening, sometimes illusory, often dangerous … and, of course, profitable.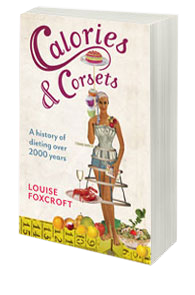 Calories and Corsets: A history of dieting over 2000 years

(Profile, 2012)

We are constantly urged from all sides to slim down and shape up, to shed a few
pounds or lose life-threatening stones. Media obsession with weight may
be a twenty-first-century phenomenon but we have been struggling with what to eat, when and how much, ever since the Greeks first pinched an inch.

Calories and Corsets tells the epic story of how we have tried - and failed - to battle the bulge, and how the fashions and fads of body shape have changed over time. Meticulously researched, surprising and sometimes shocking, it takes stock of the dieting tradition, and examines the ideas that have recurred throughout the ages.

Drawing on material from letters, medical journals and the dieting bestsellers we continue to devour, the book reveals the extreme and often absurd lengths people will go to in order to achieve the 'perfect' body. This unique and witty history exposes myths and anxieties that drive today's multi-billion pound dieting industry - and offers a welcome perspective on how we can be healthy and happy in our bodies.

Highly Commended in British Medical Association Medical Book Awards 2012 (Popular Medicine category), and shortlisted for the Food Writer's Guild Miriam Polunin Award for Work on Healthy Eating 2013. Also published in Brazil, Taiwan, South Korea, and China.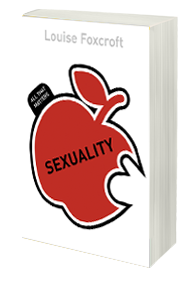 Sexuality: All That Matters

(Hodder & Stoughton, 2014)

Sexuality is innate, inescapable. It is a sometimes marvellous, sometimes monstrous mosaic that has evolved over the centuries. Every generation thinks it has invented sexuality and so it has, because sexuality is not a given but a constantly changing network of interlinked ideas, knowledge, desires, pleasures, controls and exploitation. Forget any notion of sexuality as homogeneous, either in experience or understanding, despite the many attempts made to persuade or coerce people into a 'safe' or coherent mould: sexuality is potentially disruptive.

'What freedom men and women could have, were they not constantly tricked and trapped and enslaved and tortured by their sexuality! The only drawback in that freedom is that without it one would not be a human. One would be a monster.'
John Steinbeck, 'East of Eden' (1952)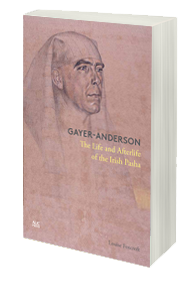 Gayer-Anderson: The Life and Afterlife of the Irish Pasha

(American University in Cairo Press, Autumn 2016)

Major RG 'Pum' Gayer-Anderson (1881-1945) was an Egyptologist, poet, surgeon, soldier and psychic. A passionate collector, his most celebrated piece is The Gayer-Anderson Cat, held at the British Museum. As a child in the 1880s, he crossed America with his entrepreneurial and eccentric Irish parents. As a man he fell in love with the East, sailed the Nile, attended the official opening of Tut-ankh-Amen's tomb, wrestled crocodiles, fought at Gallipoli, smoked opium, saw ghosts and witches, performed surgery in the desert, cared for artefacts and boys in his Cairene home, survived assassination attempts and, for Henry Wellcome, he boiled the flesh from the skulls of Nubian warriors.
This book is based on his candid memoir, conceived as a 'gauge of self-knowledge', and is full of adventure, obsession, love and violence. There are frank accounts of his exploits and the illustrious people he knew: King Faoud, T.E. Lawrence, Kitchener, Conan-Doyle, Eric Gill, and Humphrey and Stephen Spender, among others.
His was an extraordinary life, teetering over the constraints and excesses of Edwardian expectations, a tightrope walk of nerve and courage. As a British Official in Cairo, he kept up a respectable front, knowing all the while how dangerous his true inclinations and desires were. An identical twin, he really was split in two; his personal contradictions reflecting the dissonance between East and West. Drugs, race, class, family, sex and selfhood mix vividly in a tale of beauty, war, colonialism, medicine and psychic phenomena.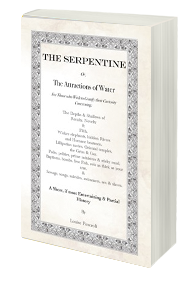 The Serpentine, Or, The Attractions of Water

(Honeybee Books, 2015)

The Serpentine River of Hyde Park in London has a wild history for all its tame and placid surface. For nearly three-hundred years this forty acre sheet of water, this eighty million gallons has exerted its attraction as a meeting place for the fashionable, the athletic, the leisured, the studious, the riotous, the debauched, the desperate and the playful. In the central and subtle ways in which it occupies the heart and mind of London and beyond, it has appeared both idyllic and hellish. On a summer's evening in the mid-nineteenth century up to 10,000 people bathed in the water: 'the south shore of the Serpentine is one mass of human flesh in motion', observed the physician Edward Tilt in The Serpentine "as it is" and "as it ought to be" (1848).

On the water, in it, under it, around it, and reflected upon it, all base and fashionable London has been there. Characters and atmosphere have risen from its depths as did the malodorous miasmas from its soupy, sewage-sodden past. The Serpentine itself is nature manipulated. Corrupted, some said. It flows; it is a curve in one of London's lost rivers, though most of it is now buried, arched over as the city grew and poured its muck into a once pure stream. This artificial lake has formed a fertile space in the middle of the city's crowded body.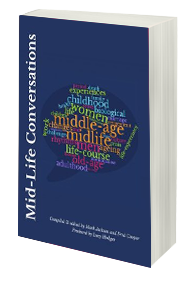 Mid-Life Conversations

(Wellcome Centre for Cultures and Environments of Health, 2021)

This book of short provocations contains outputs from the Wellcome Centre's 2018 interdisciplinary conference, Mid-Life Conversations. Featuring essays, poetry and short stories, as well as an art provocation, attendees at the conference were asked to explore and consider mid-life in conversation with colleagues from across academia. Authors include professors, students and non-academic participants, all musing on an aspect of mid-life. What does it mean to be middle-aged? Are midlife transitions always crises? What are the challenges to health and wellbeing in middle age? How has middle age been influenced by social, biological or cultural factors?

The following publication has arisen from the outputs of that conference:
https://wcceh.org/themes/life-course/mid-life-conversations/